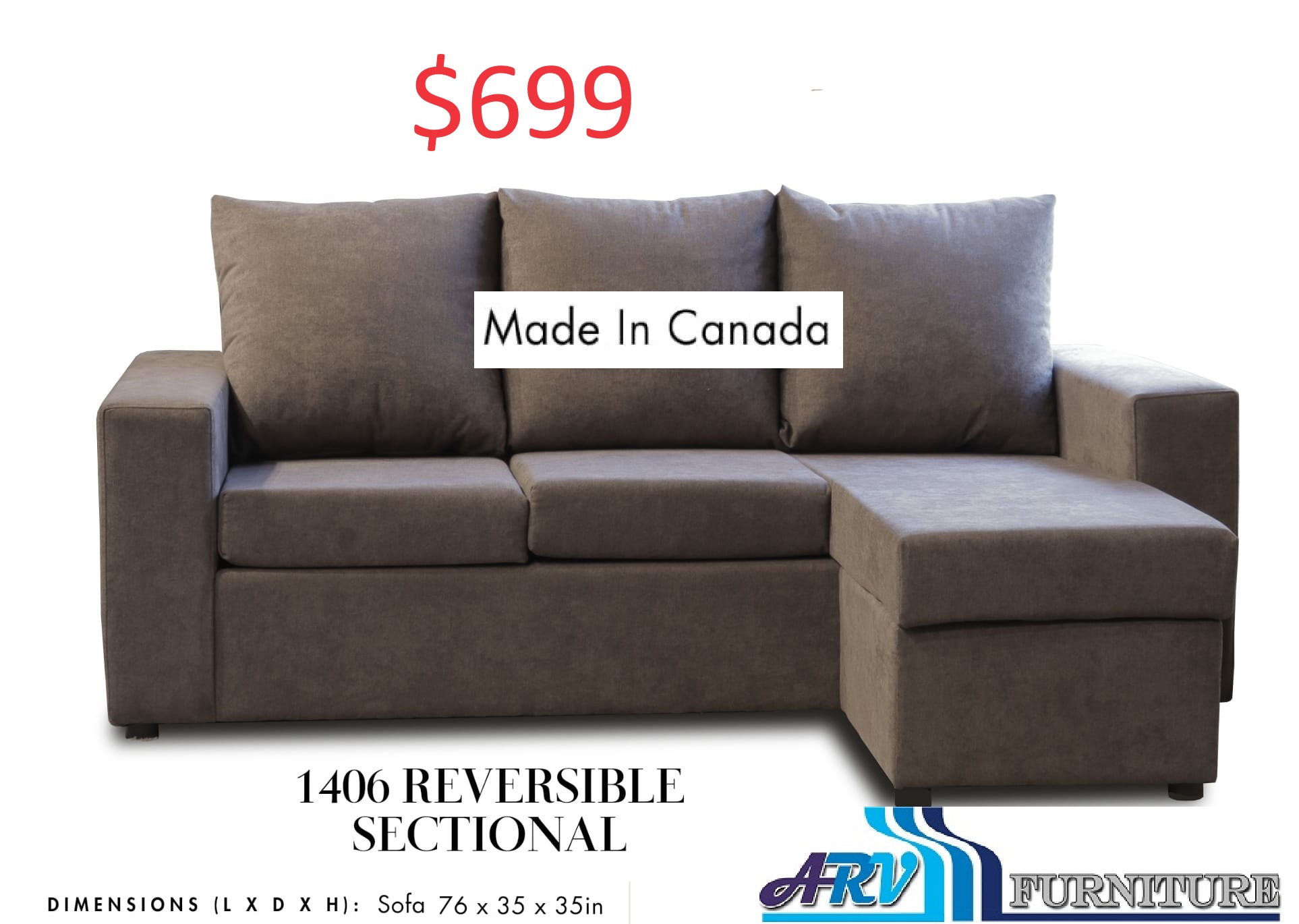 Choosing a modern sectional fabric sofa is an important decision that can impact the look, comfort, and functionality of your living space. ARV Furniture in Mississauga, Ontario, Canada, offers a range of options, and here are some tips to help you make the right choice:
Measure Your Space: Before you start shopping, measure your living room or the area where you plan to place the sectional sofa. Consider factors like available wall space, walkways, and the sofa's orientation. This will help you determine the size and configuration of the sofa that will fit best.
Determine the Configuration: Decide on the sectional sofa's configuration based on your room layout and seating needs. Common configurations include L-shaped, U-shaped, and symmetrical or asymmetrical designs. Consider how many people you want the sofa to comfortably accommodate.
Choose the Right Fabric: Fabric selection is crucial for both aesthetics and practicality. Consider factors like durability, comfort, and maintenance when choosing the fabric. Some popular options for modern sectional sofas include:

Linen: A breathable and lightweight fabric with a textured look.
Microfiber: Stain-resistant and easy to clean, making it suitable for families with children or pets.
Velvet: Luxurious and soft, but may require more maintenance to keep clean.
Leather or faux leather: Sleek and contemporary, with easy maintenance.

Color and Pattern: Select a fabric color and pattern that complements your room's decor and style. Neutral colors like gray, beige, or white are versatile and can easily blend with various design schemes. However, bold colors or patterns can add a pop of personality to your space if that's what you prefer.
Test the Comfort: Visit the showroom to test the comfort of the sectional sofa. Sit on it, lie down, and assess the cushioning and overall feel. Consider the seat depth, backrest height, and firmness level to ensure it suits your preferences.
Quality and Construction: Examine the quality and construction of the sofa. Look for sturdy frames made from materials like hardwood or plywood. Check the stitching, seams, and padding for durability. High-density foam cushions are typically more resilient and comfortable.
Customization Options: Inquire about customization options offered by ARV Furniture. Some stores allow you to choose the arm style, leg type, and other design elements to tailor the sofa to your liking.
Budget Considerations: Determine your budget beforehand and stick to it. ARV Furniture offers a range of options to fit various price points, so knowing your budget will help narrow down your choices.
Delivery and Warranty: Ask about delivery options and the store's warranty policy. Ensure you understand the terms and conditions of the warranty, especially if it covers fabric and structural issues.
Read Reviews and Ask for Recommendations: Research online reviews or ask friends and family for recommendations if they have purchased furniture from ARV Furniture. This can provide valuable insights into the quality and customer satisfaction with their products.
By following these tips and carefully considering your needs, preferences, and budget, you can choose a modern sectional fabric sofa from ARV Furniture that suits your lifestyle and enhances your living space.